Firestorm Free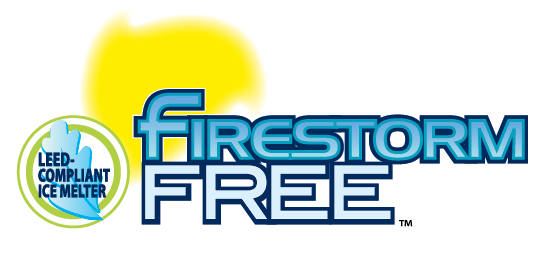 FREE OF CHLORIDES, ACETATES AND NITRATES, IT OUT-PERFORMS CMA AT HALF THE COST
Not all commercial ice melters are as environmentally friendly as they appear. In order to be effective, and still contribute to LEED® points*, calcium magnesium acetate (cma) prills are usually recommended. But cma is cost-prohibitive and does not perform as well as premium chloride-based products.
NEW FIRESTORM FREE™ MEETS BOTH CHALLENGES.
This new environmentally-friendly product is non-corrosive, contains no chlorides, acetates or nitrates, can contribute to LEED® points* in both Canada and the U.S., out-performs the competition – AND IT'S AFFORDABLE.
Uses 25-33% less product
Readily bio-degradable
Safest for the environment
Non-corrosive + safe on concrete
FOOD-GRADE BLUE MARKER reduces over-application
Fast acting. long lasting
Exothermic reaction with moisture creates heat for powerful melting
Melts to -9°F (-23°C)
GET THE FAQs ON FIRESTORM FREE™
* This does not suggest that the product is approved by the CaGBC or the LEED® program
Info Sheet:  
FIRESTORM FREE– Product Information Sheet
SDS Documents:  
FIRESTORM SKUs:
44 lbs. / 20 kg bag – 8407049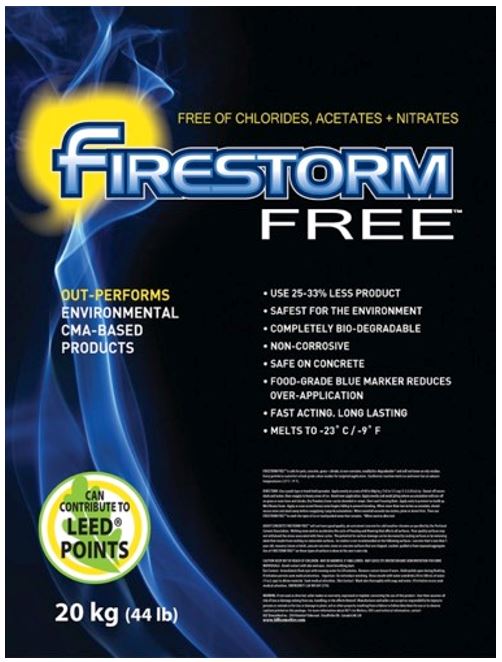 "Firestorm Free (HCOONa) is an environmentally-preferred de-icing chemical." – LEADING GREEN ORGANIZATION